Dental Implants
The ideal replacement for missing teeth
What is an Implant?
A dental implant is a small titanium screw which is placed into the bone where a tooth is missing to provide a stable and durable platform for the replacement of the missing teeth. Titanium dental implants were first used thirty years ago. Since then there has been a very large amount of research to prove that they work extremely effectively and reliably, and are the best possible option for replacement of missing teeth.
The main component is the titanium implant itself. This resembles a precisely manufactured screw with a specially roughened surface which makes it very compatible with bone. The implant is about the same size as the root of a natural tooth. It is placed into the bone and left to integrate with bone for 4-6 weeks. There are no problems with the integration of the implant into the bone, because titanium is one of the few materials that can undergo osseointegration with the bone, whereby the implant is accepted into the bone which fuses around it.
Once the implant is solid in the bone, the second part, a special titanium post, can be screwed into the implant. This is called the abutment.
Why Implants?
Keeping the 3 most important factors of form, function and aesthetics in mind, dental implants are the ideal solution for replacement of natural teeth. Whether you need to replace few or all of your teeth, you will notice a few striking benefits.
The ability to Bite into And Chew Foods just like natural teeth is regained. You can enjoy your favorite foods such as meats and nuts, as if you were using healthy, natural teeth.
It gives instant results to Look Young. With missing teeth, the face has a sunken appearance and a person looks much older than he or she actually is. With dental implants, this is reversed immediately and a well balanced, natural and radiant smile is gained. This process alone would make one look at least 20 years younger! Lifelong solution. Dental implants are a one-time procedure which last a lifetime.
Dental implants are used to retain or replace existing dentures, replace missing teeth, replace bridges, replace existing crowns.

DENTAL IMPLANTS AT MONARCH DENTAL CARE
At Monarch Dental Care, we have developed the skills to make dental implants look incredibly natural. We only use those implant systems which meet the most stringent of international quality standards. Some of the brands that we use are Nobel biocare, Biohorizons, Ankylos, Basal implants (ihde), Straumann, Zirconia implants etc.
DENTAL IMPLANTS V/s BRIDGES V/s DENTURES
If you have missing teeth, or are about to loose teeth, then filling the gap can be achieved with a denture, bridge or implants. To some, dentures are a bit old fashioned, perhaps something that their grandparents might have worn, and they involve the hassle of removal and cleaning. All bridges involve the cutting of adjacent teeth to some extent. However, the major problem with dentures and bridges is that they fail to preserve the bone and gum around extracted teeth and this will continue to shrink throughout life, giving an aging effect. Dental implants, on the other hand, feel just like normal teeth, do not involve the cutting of adjacent teeth, are much more of a permanent solution, and prevent the gum shrinkage and aging effect.

TYPES OF IMPLANTS
Implants at Monarch Dental Care are categorized into 3 types, based on the time required:
TWO STAGE IMPLANTS: The procedure is carried out in two stages spread over a minimum interval of 3 months. The first stage involves the placement of the implants and requires one to two sessions. The second stage involves the fabrication of the crowns (teeth). This is used in those few cases where single stage implants are clinically not possible.
SINGLE STAGE IMPLANTS: The latest in dental implant technology, this involves completion of the entire procedure, right from extractions, implant placements and fabrication of the crowns (teeth) in one stage of approximately two weeks. This system can be used for almost all types and categories of cases.
IMMEDIATE IMPLANTS: This is a specialized technique, allowing teeth to be replaced in a single day. Most cases are eligible for this technique; however, scans and evaluation are required to confirm this. This system is a revolutionary concept that combines precision surgery with specialized implants for immediate results. When it comes to replacement of teeth with implants, each individual has unique needs. Whether it is the extent and quality of the bone, the relation of jaws, an individual's preference, time constraints or budget, there are hundreds of possible situations, each requiring a customized solution. We are well equipped to cater to any situation through our broad range of expertise.
ALL ON 4 IMPLANTS : This is a brilliant alternative for people who are seeking a better alternative to dentures, but do not want to opt for full mouth implants and crowns.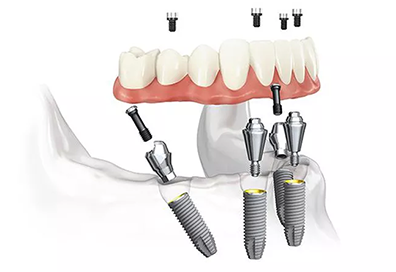 ZIRCONIA IMPLANTS (CERAMIC IMPLANTS) :There are implants made of bioceramic zirconia. These can be used in extremely rare cases of titanium allergy or in cases where people do not prefer metal implants.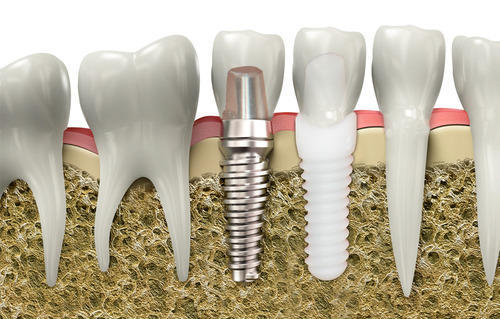 BASAL IMPLANTS (IHDE IMPLANTS SYSTEM)This Swiss based system breaks through the limitations of conventional implant systems and allows placement of implants even where minimal bone is present. In this system, no person can be refused implants on grounds of insufficient bone. Using this system, we have provided permanent teeth to many people who have previously been rejected by others.