In this era, oral disease is a recently upcoming disease which mainly occurs due to the changing lifestyle and dietary habits. Today, dental awareness among the youngsters and the elderly people are increasing rapidly. Nowadays, people are seeking ways to get the best dental treatments with minimal expenditures in limited time.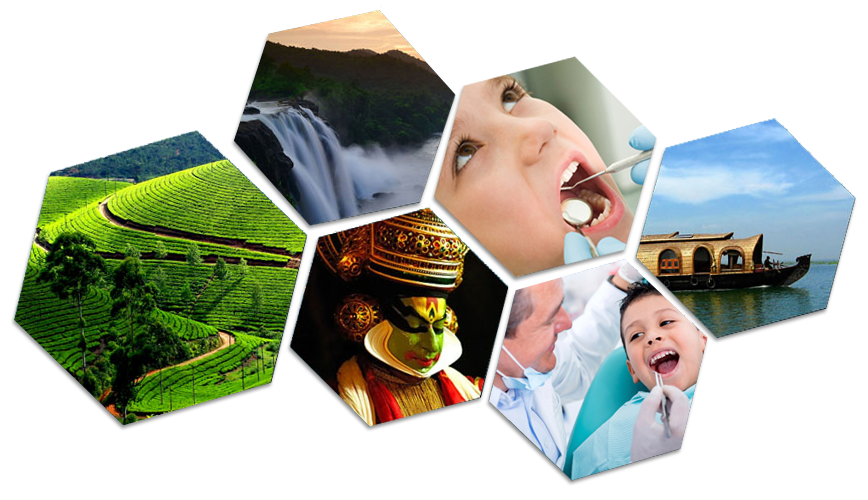 Dental tourism is a boon in this modern world. It is a concept that makes people travel worldwide for getting superior dental treatments. In a short span of time, India has become the most preferred destination for dental tourism due to its well-equipped clinics and hospitals. India attracts patients from all over the world, especially United States, Africa, Middle East and Australia –New Zealand for treatments like Full mouth Rehabilitation with Dental Implants and Crowns, Smile Makeovers with Ceramic/Porcelain Veneers, Invisible aligners, Specialized surgical procedures like Laser assisted gum surgeries and wisdom teeth extraction. Kerala is known for its increasingly advanced dental care services at affordable prices for international patients.
Dental implants at Monarch Dental Care
Dental Implant Treatments at our clinic are performed by highly skilled and experienced dental surgeons who have been in practice for more than 19 years. They are internationally trained to perform complicated surgeries and have a high success rate. We use dental implant systems like Bio Horizon from USA, Bio Denta from Switzerland, Ankylos from Germany, Nobel Bio Care from Switzerland etc. We are well equipped to perform all sorts of implants like immediate implants, all on four implants and so on. As per the requirement of the patient, we do either single phase or 2 phase implants. The time frame required for the procedure ranges between 1- 3 weeks. Above all, our focus is on fumigating and sterilizing the surgical room and equipments to avoid any type of cross contamination and infection.
Smile makeover at Monarch Dental Care
We have corrected hundreds of dental imperfections to deliver dazzling smiles. Porcelain Veneers made in our dental office are most precise in terms of size, shape, shade and bite to suit your facial characteristics. The time frame required to get a smile makeover is about 3-8 days only. We offer various brands for Veneers like Zircon, Zircon CAD CAM, Ultra T, Emax, Feldspathic etc. We have tooth whitening systems like Opalescence, Pola, Zoom whitening systems to suit your needs. Each product has its own unique special feature with a different warranty.
Dental tourism in Kerala
Dental procedures and treatment cost differ from case to case. Kerala Dental Tour package needs to be planned as per the duration of the treatment, nature of the holidays and the number of days required for the completion of treatment. For the convenience of the tourists, usually the tour sites are planned close to the place of treatment.
Hence we are happy to assist you with a customized package that can include your
Treatment plan
Travel
Accommodation
Airport Transfers
Hotel pick Up
We keep having special packages on various treatments. Our Co-ordinator will be happy to assist you with these, on request. Kindly email us or use our enquiry form for the same.To know more call us on 8137999943 / 9446239984 or email us your query on info@monarchdentalcare.in and schedule an appointment.